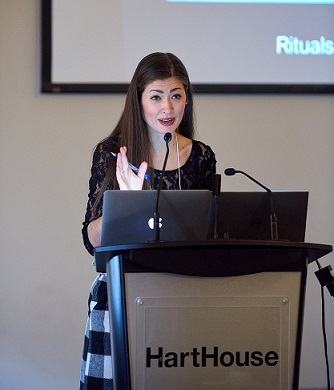 The U.S. Committee of the Blue Shield is pleased to welcome a new Executive Director to our team! Dr. Rachel Dewan joins us from southeast Alaska where she lives with her family and works as the director of the Skagway Public Library. Trained as an archaeologist, Rachel has conducted research and fieldwork in Greece, Jordan, and the United States. She completed her PhD at the University of Toronto in 2021 where she researched miniaturization in Minoan art and material culture, and earned her Master of Studies in Classical Archaeology from the University of Oxford in 2014.
In addition to her academic studies, Rachel is active in cultural heritage non-profits and archaeological outreach. She is currently finishing her term as a Student Representative on the Board of the Canadian Institute in Greece, currently sits on the Archaeological Institute of America (AIA)'s Outreach and Education Committee, served as Chair of the AIA Student Affairs Interest Group from 2018-2021, worked as Managing Editor for the AIA Toronto Society's biannual newsletter, and, from 2015-2016, volunteered as Executive Director of SAFE (Saving Antiquities for Everyone). She is also an ongoing volunteer with the non-profit, Skype a Scientist, and is passionate about cultural preservation and arts education for all.
When she's not in the library or writing about ancient pots, Rachel can be found running, hiking, canoeing, or riding horses – any way to enjoy the Alaskan wilderness with her husband, 1 year old son, and 4 year old dog.
The Blue Shield is mourning the loss of Mr. Babacar Ndiaye (1951-2023), a passionate advocate of cultural heritage protection who served as President of the Senegalese Blue Shield Committee since 2012. Mr. Ndiaye was a trained [...]

This past week has been an immensely difficult one for much of North Africa. On Friday, September 8th, the strongest earthquake of the past century struck the High Atlas region of Morocco, killing nearly 3,000 people, [...]